Jeremiah Stewart
16 JUN 1866 ~ 8 FEB 1961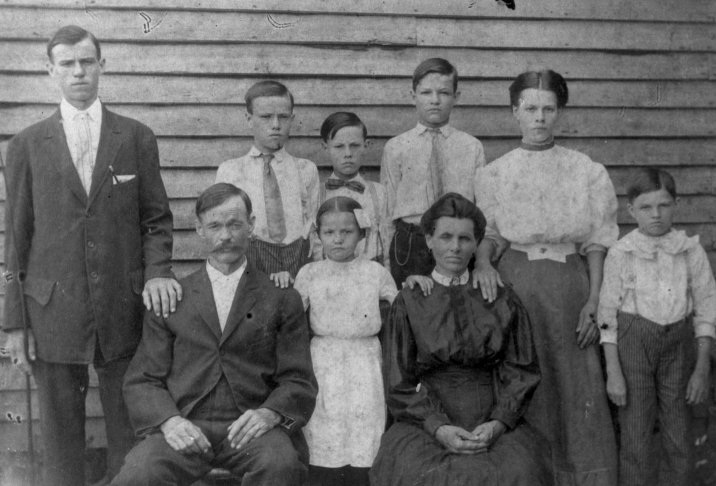 Jeremiah Stewart was born 16 JUN 1866 in Hickman County, Tennessee to parents Lindley and Eliza H. Stewart.
Jeremiah was a farmer, mostly in Humphreys County, Tennessee. Married three times, his first wife, was Sarah Byrd. They were married 31 DEC 1885. His second wife, Cindy Gunn, he married 28 JUN 1914, in Dickson County, Tennessee.
Cindy Gunn and Jeremiah were only married for nine days. Family lore has it that there was a spat between them and Jeremiah said if she didn't like it, she could leave ... so she did!
His third wife, Edna A. (Luther) Tipton, and he were married on 30 DEC 1926.
This picture is of Jeremiah & Sarah. Sitting, from left to right: Jeremiah, Nellie & Sarah. Standing, from left to right: Walter, Thomas, Robert, Hollis, Lula & Russell. At the time of this picture, around 1910, Lillie would probably have been grown and gone at 23 years old. Lillie is not in this picture.
Sarah was born in July of 1864 in Tennessee. The 1900 Census has Jeremiah and Sarah living in Dickson County, while the 1910 Census has them in Humphreys County. Jeremiah and Sarah had the following children:
Lillie - born October 1886
Walter Allen - born 14 MAY 1891 in Tennessee City, Tennessee. On 1 JUN 1912 Walter married Effie Hooper. He died 10 JAN 1984 in Sikeston, Missouri.
Lula - born 22 MAY 1893. She passed away 15 APR 1987
Robert - born May 1895
Hollis - born November 1896
Russell Louis - born 4 AUG 1898. He passed away in April of 1967
Thomas - born 11 MAY 1900 in Dickson, Tennessee. He died on 14 DEC 1984 in Piedmont, Missouri.
Nellie - born 1904
After Sarah passed away, Jeremiah married Cindy Gunn on 28 JUN 1914, in Dickson County, Tennessee. It must not have been pretty, the marriage only lasted about nine days. Later, Edna (Luther) Tipton came into Jeremiah's life.

The 1900 Census for Dickson County shows us that Edna was born in August of 1896. Edna was married to Robert Tipton 25 May 1918. Edna and Jeremiah married on 30 DEC 1926.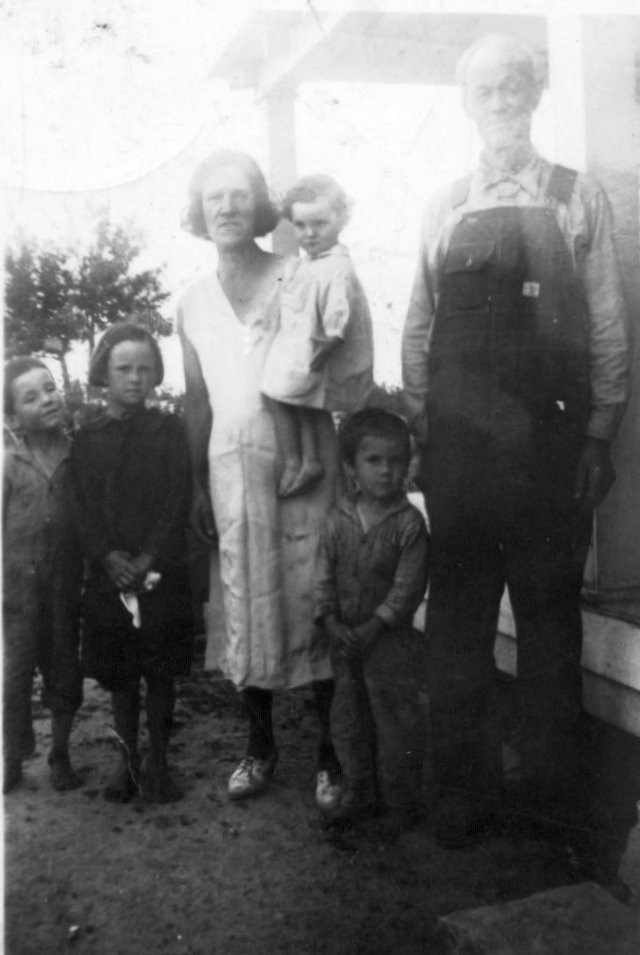 Edna & Jeremiah had the following children:
Dessie Mae - born 30 NOV 1927. Dessie passed away 22 OCT 1984
Jerry Claiborne - born 6 JUN 1929
Albert Delano - born 23 APR 1931. Albert passed away 29 DEC 2008
Eva Rebecca - born 18 NOV 1934
Jeremiah passed away on 8 FEB 1961 in McEwen, Humphreys County, Tennessee. Edna passed away in 1964. They are both buried in McEwen, Tennessee.